Webcam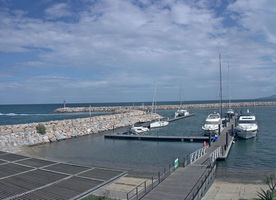 News
• WIFI on Port !
The whole of the pontoons of the port is covered from this year thanks to transmitters installed on the roof of the Port Authority
Rss format
Available places
To see the available locations to hire or sale from Saint-Cyprien port, click here
Welcome
The Port Saint-Cyprien is the most important home base of the gulf of the Lion.

At 7 miles only of the pass of entry, the sea nature reserve of Banyuls opens the road of the magic Costa Brava Coast.
Port Map
Meteo
G.P.S.
42°37'3N / 03°2'4E
From St-Cyprien port
Sud Roussillon
The call of the Catalan region
Home Events News Locations Informations Access & Contact Port's life Partners links Site map Legal notices
Copyright © 2007 Le Port de Saint-Cyprien